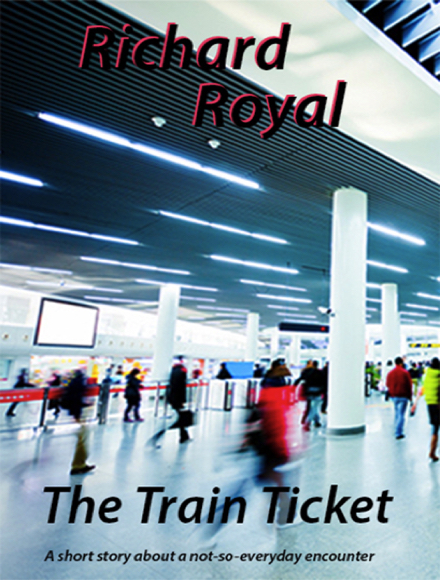 Richard Royal is an author writing both the traditional "short story" and longer romantic and science fiction novels. Scroll down to see his available work.
He prefers the electronic medium for short stories because of their instant delivery, portable reading, and low cost, but he publishes full length novels in both electronic and paper formats. Whatever he writes, he is a firm believer in the need for characters with depth, leading real lives to which the reader can relate. In his science fiction work, he uses his scientific background to ensure that the concepts postulated are reasonable and do not hide the reality of life at the time of the story. He says that his science fiction work has "real science, real fiction, and real characters
The Train Ticket
Published by Russet Publishing.
£1.50 iBook/Kindle/ePub. Not printed.
The lead character in this story unfortunately experiences an unusual series of events on a railway station, raising quite a sweat in the process. It is a short story in the 'traditional' style, in that it can be read in one thirty-minute sitting, has entertaining characters, and provides the reader with an amusing ending. It is ideal to read on a journey or when waiting for a train. But make sure you buy your train ticket first, and in good time!
Why is it, our lead character thinks, that always when we're tight for time, delays and misunderstandings occur? And why is it that everything that does happen to delay us is so bad? Why can't it be amusing?
Well, in this book, the things that happen to our hero are amusing.
We all travel through railway stations, but how many of us stop to think what adventures are going on around us? Join our friend on his perspiring journey, and wonder whether he will find peace at the end of the day. 🙂
ISBN 978-1-910537-00-8
A Tale of Two Fried Eggs
Published by Russet Publishing.
£1.60 iBook/Kindle/ePub. Not printed.
The lead character in this story, Old Joe, is an old guy employed as a yardman by a young couple in a mid-western town in the United States. The story is set in 1927 and eighty years earlier he would most likely have been a cowboy.
The story concerns no more than a chain of events that follow on from his having trouble getting his customary fried eggs for breakfast, and the initially-unconnected appearance of a couple of strange birds in his employers' vegetable patch.
We get to know the husband of the young couple who employ him, and follow his adventure as he tries to identify these two strange creatures. Will he succeed or not?
As a good short story should, this book can be comfortably read in a single sitting of about half an hour, and so is ideal for reading on a train journey, while waiting for a plane, or just when you feel like putting your feet up and relaxing for a short while.
And, as a proper short story should, it has a humorous ending.
ISBN 978-1-910537-09-1
As These Things Do
Published by Russet Publishing.
£15.99 in paperback book form.
Available from Russet Publishing for £4.99
in PDF format.
Available from Amazon and others in
iBook/Kindle/ePub format.
The first in Richard's series entitled "Unforeseen Tomorrows"
A dynamic 500 plus pages. An exciting romance, set around the year 2050. The unique feature of this book is that it has two endings! Choose which one you prefer - or both.
ISBN 978-1-910537-04-6 printed version
ISBN 978-1-910537-31-2 electronic version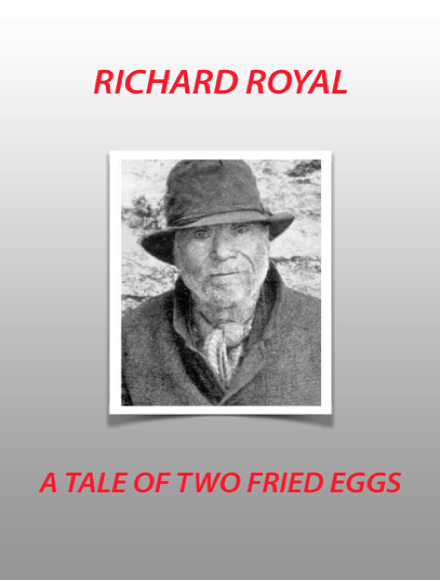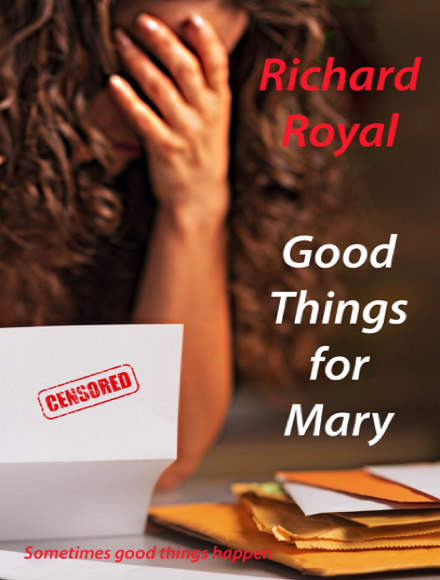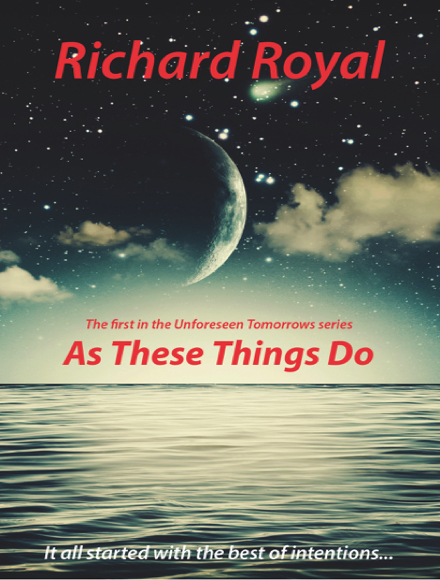 Good Things for Mary
Published by Russet Publishing.
£2.00 iBook/Kindle/ePub. Not printed.
Mary is employed as a censor working in one of HM High Security women's prisons. Her job is to read incoming and outgoing personal mail between prisoners and their loved ones. She also has to listen in to their personal phone conversations. After five years of this she is, naturally, stressed. As the story starts, she is about to give in her notice, but at last good things start to happen to her. 🙂
This story is about a romance that takes place under the most unlikely of circumstances. Working in a high security prison is one of the most stressful jobs you can find. Mary started working at HMP Warbold as a matter of convenience because she happened to live close by. But as the years went on, she found herself stuck like a stick in mud. She wanted to move, but just couldn't get round to it.
Then, slowly something developed that made her have to bite the bullet and decide to leave. She knew she would never get a social life while she worked there. No one wanted to go out with someone who worked in a prison - or so she thought...
ISBN 978-1-910537-08-4


Novels, Science Fiction and Short Stories