These are Dr Roberts' currently-available geotechnical books.
If you're interested in reading about one, just click its name below.
Historical Geology in Maps
Maps of the Past Geology, Geography, Coastlines and Climate
of the British Isles and Ireland.
Published by Russet Publishing.
£9.49 Some suppliers include postage worldwide.
This is a different type of geology book in that it tells the geological story of the British Isles and Ireland by means of very interesting maps, simplified for easy study, so that it can be used by young people, interested amateurs, geology or civil engineering undergraduates, climate change specialists, and even professional geologists.
Firstly there is a set of global maps showing the conjectured positions of the main crustal plates over the last 750 million years. This is followed by a sequence of very approximate and simplified maps of the British Isles and Ireland, with accompanying descriptions, covering the last 543 million years. Throughout, the book contains tables and diagrams covering the changes in the climate of the British Isles over that period of time, the rock sequences deposited, sea level change, atmospheric change, fossil types, major extinction events, mountain building periods and so on - always referring to the relevant map.
People find maps so much easier to understand than just pages of complicated text. These maps allow you to picture what the British Isles was like at any period of time in the past. By means of careful approximation and some considerable compromise, the author has produced one map for each of the main geological periods - Cambrian, Ordovician, Silurian, Devonian, etcetera, right up to the most recent Ice Age. This has been done in the interests of simplification, for the purposes of making understandable what would otherwise be a too-complicated subject.
You can see more details about it by clicking:
and - if you like it - you can buy it.
Tectonic Plates
How the World Changed
Published by Russet Publishing.
£.6.50 Some suppliers include postage worldwide.
This book has been written and the maps drawn for beginners, night classes, schools, universities, amateur geologists, climatologists and even for professional geologists.
It is for anyone who wants to understand the causes of the huge changes in the world's geology, oceans, and climate, which have, in turn, created and moulded its diverse geographical landscapes.
You can see more details about it by clicking:
and - if you like it - you can buy it.
Russet Publishing promotes the works of Prof Dr Peter Roberts.
He was a Fellow of the U.K. Institution of Civil Engineers for 27 years, and a Fellow of the Geological Society of London for 42 years. He has more than 45 years of international experience as a consulting engineer.
His academic qualifications are: BSc (geology) MSc (mining and tunnelling) PhD (civil engineering).
His full affiliations, before he retired from his various professional societies were:
BSc MSc PhD CEng CGeol CText FICE FTI FIMMM FGS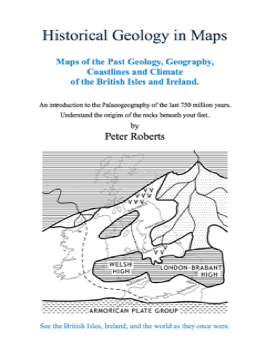 Geological and Geotechnical Books
Rock Slope Engineering
The Geology and Mathematics of Rock Face Instability and Rockfall Control Design
Published by Russet Publishing as a high-resolution, PDF book with colour photographs.
£96.00. Three copies are downloaded for you. One each for a computer, a tablet, and a smartphone world-wide. Three PDF files will be sent, locked to either your personal or your work email address for your security. See our TERMS for necessary details.
This modern book is written for graduate civil engineers, engineering geologists, and geologists working in the geotechnical, highways, civil, and mineral extraction industries. It will also be useful for undergraduates studying for those professions.
The overall purpose of this book is to provide the engineer with the real, practical, information, technique, and maths to assess, design, and supervise rock stabilisation works on a day-to-day basis.
The great majority of the diagrams are drawn by Peter Roberts himself, thus reducing possible artistic error through the re-drawing process. The book contains working examples for all numerical procedures, and is Eurocode 7 aligned.
There is arguably no equally comprehensive, practical, or useful book available elsewhere.
You can see more details about it by clicking:
and - if you like it - you can buy it.
Geological and Geotechnical Books